Medicare Plans to Pay Doctors for Counseling on End of Life
New York Times, July 8, 2015
Are you prepared? Is your family prepared? Is your doctor prepared?
"Doctors don't listen." Patients and caregivers forget to ask questions. This breakdown in communication often results in unnecessary visits to emergency departments and unconscionable medical intervention at the end of life. Self-examination, physician-examination and family involvement are all necessary components of advance care planning. Effective communication regarding appropriate end-of-life care requires guidelines along with the atmosphere of comfort, openness, and mutual respect.
We all need:
With advances in medicine and people living longer, additional burden falls on caregivers who are damned if they do and damned if they don't sustain the life of a loved one. Patients and caregivers struggling with end-stage disease urgently need a voice of reason and plan of action in conjunction with physicians. To this end, Dr. Haselhorst has set forth the following personal and professional agenda:
Terms of Engagement for End-of-Life Discussion
Ground rules for maintaining dignity
Time frame for ending unnecessary intervention
Introspection prior to discussion
Pretest for discussion questions
Heartening conversation leading to peaceful resolution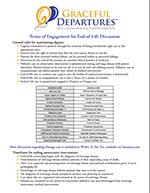 Download Terms of Engagement for End-of-Life Discussion here.