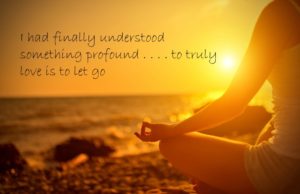 Spread the word: September is National Yoga Month.
I've practiced emergency medicine and yoga for 15 years and often sing its praises to coworkers and patients. Yet it has been difficult to describe this invigorating experience in words until I read "Contagious: Why Things Catch On" by Jonah Berger.
Why is yoga so popular?
Because, Berger proposes, anything that goes viral –like flu, iPhones or videos — have similar infectious aspects that create a shared experience.
One contagious aspect in life is the loss of a loved one. My father died four months ago, and I've found yoga to be a powerful coping skill to handle grief. Grief, like stress, can stream through the body unconsciously and result in muscle tension and chronic illness.
Here are three reasons yoga is contagious, especially in coping with grief.
Yoga is emotional.
It stirs deep-seated tension and feelings. Yoga positions trigger an internal tug of war. While my limbs are being pulled in opposite directions, my mind is screaming, "Good Grief!" This mental breakdown opens the door to a spiritual breakthrough.
Quieting the mind awakens the heart. The blood, sweat and tears you suffer while stretching allow muscles to release and rebound. In one simple breath, my mood swings from feeling tormented to feeling liberated. As breathing becomes deeper and more deliberate, my heart pumps stronger and redistributes the pain.
Yoga is practical.
You can apply its principles to daily life. Most yoga students attend their first class for a reason, usually to feel better or fill an empty hole. They restore the missing pieces to the puzzle through a through a holistic connection of mind, body and spirit.
The discipline to stay present and create awareness by breathing in and out consciously for one hour teaches me how to ease pain and suffering. From child's pose to corpse pose, I have learned to use yoga to acknowledge grief, stir it up and let it go.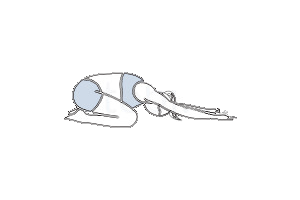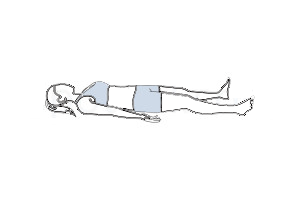 Whether it's a mom trying to release the cares and worries of the day or the son losing his father, yoga is exactly what the doctor ordered.
Yoga is social.
It connects us to others. Students enter the studio as individuals but leave feeling a bond with others in the room and can't help but feel on the top of the world: relaxed and free. People who grieve tend to isolate until they get over "the bug."    Grief counselors often advise those mourning to "go through it" and "find your own way."
Strength in numbers can hasten recovery because it helps you draw energy from other people. Similar to group therapy, yogis grieve together and share the four elements necessary to grieve: earth, wind, fire and water. While perspiring, breathing, stretching and feeling grounded in the child's pose of virtual powerlessness, the four elements unite harmoniously. An opportunity to bask in serenity. While in corpse pose, I pictured myself being connected to my father –resting in peace.
Who knew grieving could feel so good?
During National Yoga Month, share this post with someone you know who's grieving or needs recharging.
*   *   *
Keep in touch with me through signing up for Dr. H's Clipboard:
                             Twice monthly email tips that promote compassionate end-of-life care.