Ed had an easy-going personality at the ripe-old-age of 82. He came to the ER with his worrisome wife, Sally, due to diarrhea and dehydration. Ed felt weak, but remained upbeat. He was dealing with prostate cancer that failed to respond to two different courses of chemotherapy. Sally was cautiously optimistic that the next round of chemo might work.
Sally's inability to acknowledge the difficulty Ed had experienced with experimental treatment stunned the emergency physician. How much more would Ed need to endure before cutting his losses? The answer to this question seemed to not be up to Ed, but left to "the boss."  Sally had a vested interest in keeping Ed alive as long as possible regardless of the harm done.
After explaining that offering chemo to patients in their 80's often hastens death, the doctor jokingly turned to Sally and asked, "Are you trying to kill your husband?" Ed chuckled and appreciated that someone finally noticed the toll that the treatment was having on his physical and emotional well-being.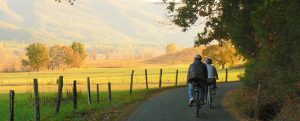 Was this the right season for further medical treatment?  With the focus on treating the disease, Ed's wellness was being neglected. If at first you don't succeed, try, try again becomes the cause for yet another treatment plan. One advantage of seeing an emergency physician is that family caregivers have a fresh pair of eyes on the situation. The physician's perspective might shine a clearer light on the season your patient is encountering.
Autumn is a period of discovery and concession that needs to ignite a caregiver's all five senses:
See the changing colors
We often take summer for granted, recognizing familiar landscapes of lush gardens and cornfields. The trees have thicker foliage, providing much-needed shade. While the seasons do occur like clockwork, the suddenness of the fall colors often take people aback. How do cornfields go from green to yellow to brown? How do leaves change from green to every shade of the rainbow? The splendor of this transformation is striking.
Similarly, a trip to the ER often catches caregivers off-guard.  Summer can change to autumn in an instant. Sally could see Ed's failings, but felt compelled to have him return to the summer of his life. As in the song, "Everything is Beautiful," The lyric states, "There is none so blind as (s)he who cannot see." Caregivers need to approach each season of life with their eyes wide open. 
Hear the birds fly south
Caregivers often face north with a sense of optimism. Never mind the birds cawing, flapping their wings, and flying south for survival. Each seasons calls caregivers to pay attention to Mother Nature and her instinctual wisdom and teachings. The call for more medical intervention conflicts with the concern for letting nature take its course. Autumn may reflect the time for you pay more attention to your survival than saving your patient's life.
An ER visit prompts a wake-up call for most caregivers. You might realize that your patient is heading in the opposite direction of what you were hoping for. At some point, if you can't fight Mother Nature, you need to join her in solidarity and become more understanding of your patient's failings. This is a profound spiritual calling that caregivers often sense instinctively, but hesitate to heed. 
Taste the pumpkin pie
Nothing in life quite compares to a Thanksgiving feast complete with pumpkin pie. As caregivers begin to reap what they sow while celebrating the abundance of life during the autumn season, what's left to hope for? A return to the past or being present to this season? The sweet taste of accomplishment can be satisfying, yet addicting. Discover ways to reward this time of life by suggesting less medical intervention and more savory foods.
As Sally deliberates providing Ed pumpkin pie over chemotherapy, she may have realized that the two don't mix very well. Chemotherapy often leaves a metallic taste in the mouth, destroying Ed's taste buds. If Ed becomes too sick to eat or drink, what's the point? Caregivers are often concerned about quality-of-life issues. The easiest way to determine "quality" is by observing your patient's passion – or lack thereof – for sweet delights.
Smell the winds of change
Grass trimmings smell different than piles of leaves. Mums have a different scent than roses. One season is not better than the other, yet there is a subjective propensity to prefer one over the other. With age, priorities also tend to change.
If Sally would stop for a moment and smell the antiseptic aroma of the hospital, she might receive a hint about what may seem repugnant to Ed. Hospital odors tend to reek of sickness. Keeping Ed out of healthcare facilities might allow him to actually feel better. Winds of change offer concessions; some things stay while others go. This often occurs through happenstance rather than what smells right. Caregivers might encourage aromatherapy over chemotherapy as the best course of treatment.
Touch the fall leaves
Trees shed their leaves during the fall season creating a mess that overshadows your once vibrant garden. Tidying up becomes a never-ending battle. Some gardeners stay on top of this situation, while others prefer all the leaves to fall before getting out the rake. Either way, this cleanup requires getting your hands dirty which becomes one more act of love.
Sally needs support for making concessions during Ed's autumn. His incurable cancer is not much different than trees shedding their leaves in autumn. With an increased willingness to accept the inevitable task of preparing for winter and having Ed wind down during this time in his life, Sally will become a more supportive and loving caregiver.
—————————–
Faith and optimism abound during summer, but autumn is a time to become real about winter coming. Pushing your patient to undergo extraordinary treatment during this time tends to dash the hope of ending life with a sense of fulfillment. You will begin to recognize autumn as high-season, creating a more positive culmination of your patient's life.
Given the chance, autumn provides another opportunity for both patients and caregivers to count their blessings with thanksgiving.