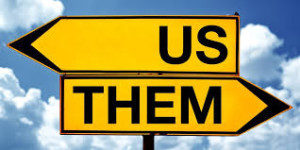 Cancer has a way of spreading separatism insidiously which shields patients from knowing the truth.  In good faith, many patients with terminal cancer maintain a one-track mind toward survival. Doctors tend to appease this mindset by both providing false hope and practicing bad medicine. They enroll cancer patients in separate prognoses for their conditions, but provide equal opportunities for survival. Those with terminal cancer and good faith are often given the benefit of the doubt along with the booster shot of false hope, pretense and bad medicine.
I recently cared for a 72-year-old man suffocating from complications due to throat cancer.  He was now ready to have a tracheostomy tube inserted into his windpipe.  Five months previously, the throat tumor had been excised and he was currently receiving chemotherapy for metastatic disease to his lungs. Despite audibly high-pitched tones resonating from this man's obstructed airway, his wife insisted that their hopes were high that chemotherapy would reverse the cancer. If all this were simple, why was this gentleman enduring so much suffering?
I immediately called the patient's ENT surgeon. He grimly expressed that the patient's medical condition was, indeed, terminal and palliative care was being provided. He stated that he would arrange that day for both an emergency tracheostomy and hospice consult. However, this line of thinking was in direct contradiction to the steadfast curative mentality of the oncologist, patient and his wife. In support of peace of mind and the practice of good medicine, I needed to clarify, reconcile and personalize these separate, but equally heroic game plans through the values of the patient and his wife.
The wife assured me that hospice had previously been consulted and her husband did not qualify. It was painfully obvious that he did qualify for hospice care. However, their good faith was not receptive to its resources or services. The false hope provided by the oncologist supported their good faith. The separatism between leaving this couple in the dark and shining a light on his mortality appeared to be acceptable to them, especially while being enrolled in the idea of terminal cancer achieving remission.  Seemingly, a bad disease provides the impetus to both practice and receive bad medicine.
Patients have the first right of refusal to accept any terminal diagnosis and potentially ineffective treatment through good faith. However, it is unacceptable for any physicians to capitalize on their patient's good faith by adding false hope.  Treating patients by leaving them in the dark is contrary to the practice of good medicine. Best practice in medicine might be geared more toward having the patient prove the doctor's prognosis wrong rather than have patients feel as though they had been wronged by the doctor more than the disease.