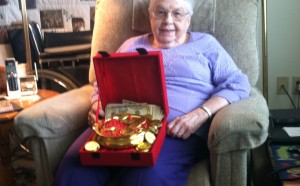 Routine urinary infections can be life-threatening in elderly patients. Last year my always-organized mother developed disorganized thinking in conjunction with a urinary infection. She claimed over our weekly phone call that her new medication did not make her feel right. She neglected to mention that having a fever was the reason for this medication. The reality of Mom's apparent confusion indicated she was slipping and not destined to live forever. We needed to have a conversation. I needed to create an opportunity to get some things off my chest, out in the open, clear the air and make room to breathe.
As an EM physician I listen to patients' medical complaints and heartaches. Many share stories of missed loved ones who weigh heavy on their thoughts; complete with raw emotion and ready tears. We need to have a conversation about grief. Preventing future heartaches come to pass through honoring loved ones' impact in the present. I can't live if living is without you is the refrain that repeatedly plays for survivors anchored in grief. Life becomes suffocating when failing to release loved ones through thoughtful rituals and thanksgiving. Heartaches arise when love is choked-up rather than expressed. Death is experience as loss rather than fulfillment.
I chose to enact a ritual on Mom's 88th Birthday based on The 5 Love Languages written by Gary Chapman. He describes the love tank being supplied by five pipelines of flattery or affection that include words of affirmation, quality of time together, gifts given, acts of service and physical touch. In recognizing Mom's lifetime achievement, I pulled out all the stops and showered her with each language of love. My gift included hand delivering one of the paired hand-stitched pillowcases she lovingly gave me previously. This offering solidified that each of us would rest easy and be connected for eternity. I adorned the pillowcase in a pot of gold along with an attached letter of affirmation. Quality of time spent on her birthday was realized through service of taking her to an eye appointment followed by a grand lunch. The day ended with a big hug.
Relationships with parents is not casual, it is newsworthy. Therefore, I contacted the local newspaper with the prospect of publishing my Mom's lifetime notoriety prior to eventually printing her obituary. Extra! Extra! Read all about it! – became this pompous commencement exercise. I was busting at the seams while honoring her birthday as an actual graduation ceremony. I was soaring from the triumph of cutting the strings and letting Mom take wings. The next time she develops a urinary tract infection we are both be free not to treat it, allowing her to ascend from this world. Lifetime achievements instill wonder in regard to what life might be like without the honorees' contribution. Nevertheless, love with gratitude leads to fulfillment; completeness extols letting go.