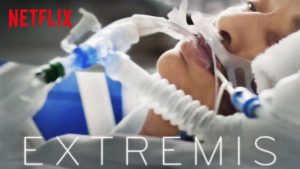 Yea, though I walk through the valley of the shadow of death,
I will fear no evil: for thou art with me; thy rod and thy staff they comfort me.
Psalm 23:4
Yea, I dare you to fear no evil as you watch Netflix's haunting documentary "Extremis." The ICU at Highland Hospital in Oakland, CA represents a walk through the shadow of the valley of death. In each room, patients are confronting both their mortality and the demons that lurk in the shadows. "Thy rod and staff" might represent the higher power available to you. Tools for your own spirituality. Yet, most of us mere mortals rely on coping skills, succumbing to demons.
The demons are our own worst fears. These include breathing machines, feeding tubes, losing control and feeling confused. Demons exist as our own worst enemies. Those who claim to be righteous and provide indignation in the name of God. These demons wear the masks of healthcare providers, family members and the man in the mirror. Having these demons exposed through "Extremis" allows us to confront them.
The spiritual battle exists between our own worst enemies and final wishes. There are three intertwined conflicts:
Man against nature
Self-preservation and survival of the fittest wage the battle with our own mortality. Being in conflict with Mother Nature rarely bodes well. Nature often teaches us about life. It seasons tell you that there are times to live, survive and die. Is there life after death? Nature answers this question and offers spiritual guidance. When there is life after death, you can lessen the need to prolong this life. Being in harmony with nature is your best bet to dying with dignity.
Man against man
Physicians and family members often stand in defense of your leaving any time soon. Every potential treatment has to be exhausted. Patients rarely have their say until all is said and done by physicians.  Advances in medicine prompts more patients to go through extremis. Extremist promote extremis. They tend to be righteous through the adage, "What doesn't kill you makes you stronger." Most people who stand in the middle ground of dignity believe that less is more. This spiritual truth allows for less medical intervention and more comfort at the end of life.
Man against self 
Personal reflection is necessary to separate our needs from out wants. While wanting to make others happy, we often sacrifice our needs. While wanting to prove ourselves to superhuman, we often sabotage our personal dignity. We often look to others to validate ourselves. Yet declaring self-worth is a spiritual undertaking. No one can give you dignity – you have to feel it from within your own heart. This deep-seated level of certainty allows you to proclaim, "I'm good!" This feeling of fulfillment gives you the sense that life is complete and you can now rest in peace.
Spiritual considerations resolve personal conflicts, allowing your spirit to be set free. Only you can guard against extremis through following your heart and advance care planning.
---
Subscribe to Dr. H's Clipboard –
Caregivers often suffer in silence while looking after loved ones and grieve in the aftermath of their death.
These twice a month email tips help caregivers understand that pain and suffering are inevitable – grieving is optional through better advance care planning.
Let's start developing a community that creates and grows understanding, knowledge and support for compassionate end-of-life care.