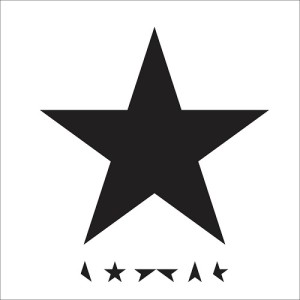 While death is a mystery, David Bowie's timely passage with the release of his the new videos from his album Blackstar left his sympathetic fans wondering and fearful. The graphic shock waves that permeate the characters in the video reflect those of us who shake our boots at the prospect of confronting our own mortality – our own nothingness and anti-matter inherent within a black star. Similar to the artistic enterprise of producing an album, life begins with envisioning a masterpiece and then bringing it to fruition. David Bowie's last album – in the genus of an advance care plan – was personal, immortal and symbolic as he proclaims, "I'm a Black Star."
The black star may mean being nothing, yet it has the potential of leaving an indelible mark on paper. Near the end of life people are often sucked into the black hole of cancer, where their good cells/selves are replaced with bad cells/impressions. This tunnel of darkness affects those who are too blind to see, recreating an imprisonment or entombment. In the video Lazarus, David Bowie came out of a coffin-like armoire with a mummy-like mask over his eyes and dressed in prison-striped pajamas. This spiritual awakening provided his personal testament of the "agony in the garden" that most endure internally prior to the day of execution.
His move into darkness triggered a yin state of mind – considered emotional and passive with mixed feelings of staying power and persecution. Through the use of a blindfold, ethereal garden setting and lyrical genius, David Bowie had the viewer glimpse inside his own darkness and the revelation that decrees, at the center of it all stands a solitary candle. There is no doubt that this flickering light prompted a moment of truth and sparked his advance care plan – one for the ages. When his liver cancer returned, he knew he had to make the most of his remaining time and creative spirit.
Being both a marked man and a black star solidified David Bowie's perception of being both mortal and spiritual. This higher realization of himself generated the possibility of saving the best for last, finishing on a positive note with his biggest album release ever. The facts around how he died are irrelevant to the spirit of his life and the gift of his legacy. The self-effacing lyric, "Ain't that just like me" is the life story within all mortals who rise to fame and fall from grace. Confronting his mortality through a deeply spiritual fashion, Bowie brilliantly presented morbid scenes and allowed then pass amid a serenading humility.
Advance care planning is like wishing upon a star – having wishes to die for that provide a rationale to leave this world. We may never truly accept responsibility for our own deaths, but Bowie suggests releasing personal culpability by singing, Blame it on the black star . . . Blame it on the falling sky. . . Blame it on the satellite that beams me home. Advance care planning is about making a promise similar to David Bowie's directive, This way or no way . . . You know I'll be free . . . Just like that bluebird . . . Now ain't that just like me. This begs the question: Is your advance care plan a reflection of your emancipated self? David Bowie's Black Star shines ever brightly on our own prospects and passage at the end of life.
David Bowie – Sweet Dreams