Emergency doctors normally don't consider final wishes when it comes to treating a 47-year-old woman. Tina had metastatic kidney cancer that spread to her liver and lungs.  With her being someone's wife, mother, sister and friend, there's an emotional charge to keep this young woman alive. Tina deserved the best treatment available. Like most, this goal overshadowed Tina's final wishes.
Physicians at the Minnesota Mayo Clinic told Tina there was nothing they could offer, so she came to Arizona for an experimental drug, vitamin infusion and body work. Tina was composed, competent and committed to fight the cancer that was devastating her "happily ever after" with husband Kyle. When staff at the treatment clinic noted a high pulse rate, they stopped the vitamin infusion and gave her two liters of IV fluid. She remained tachycardic and came to the emergency department (ED) for further evaluation. Her situation required medical examination, personal introspection and advance care planning.
Advance care planning includes making medical decisions based on final wishes
Final wishes are often nebulous and, therefore, unspoken. The mind may not be aware of the heart's desire. Sometimes what the heart desires may be too risky to express for fear of condemnation and rejection. Most people learn that taboo subjects like final wishes are best kept to themselves when the primary goal is to live as long as possible.
But if patients break the thought process behind personal wishes down to a game of "Deal or No Deal," medical decisions often become a process of elimination. For example, a Jehovah's witness always declines blood transfusions. Some people oppose pain medication while others may be allergic to antibiotics. "No Deal" is voiced by patients who mix and match their medical decisions with final wishes in order to determine their own final decisions.
Medical decisions can range from work excuses to cardiopulmonary resuscitation. Yet each possible medical decision in between is based on some aspect of one's final wishes – the sequential thought process that involves "deal or no deal" — a contest of wills between patient and physician. The heightened emotions that often sabotage medical decisions require better rules of engagement and a clearer understanding of "final wishes" and how to apply these to the making everyday medical decisions.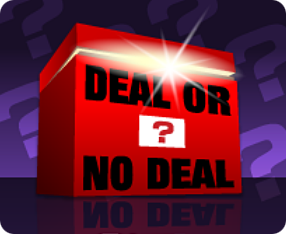 Every patient deserves these seven wishes be granted by their physicians and themselves:
Composure
Competence
Commitment
Certainty
Conformity
Compassion
Comfort
Tina was composed, competent and committed, but she was not yet certain she was dying. For her, certainty would mean game over – imminent death. Therefore, "No Deal" was her final decision that would allow cancer to win. But was Tina certain of being admitted to the hospital? She was out of state and her insurance would not pay for inpatient treatment.
The physician could "deal" with this situation by introducing Tina's remaining final wishes into the conversation. Conformity meant that she would need to be reasonable: sign out against medical advice or consider enrolling in palliative care. Tina may not have been certain she was dying, but the physician did not wish to be liable for the death of a terminally-ill patient discharged from the emergency department. Tina understood the risks and proclaimed, "Deal!"
With enrolling in palliative care, Tina received the final wish of compassion.  She was given free choice between doing (spending) more and doing (spending) less while gaining a better appreciation of her self-worth. Even though a pulmonary embolism was ruled out as a cause for her rapid heart rate and difficulty breathing, she still wondered if some of the swelling in her legs might be due to a blood clot rather than liver disease. The physician reassured Tina that the deal with palliative care or person-centered care was to focus on putting her mind at ease. An ultrasound of her leg was ordered and showed no deep venous clot.
As Tina and Kyle left the ED holding hands, they waved "goodbye" and thanked the physician. They were satisfied with their care and comfortable with the final decision to leave the hospital. Seemingly, they made a good deal and won. The physician also felt he had won by granting Tina more final wishes than she had ever imagined receiving. This was a turning point in her end-of-life journey. She and Kyle would be heading back to Minnesota to live out their "happily ever after."
The "deal" with linking eternal bliss and final wishes involves listening to the heart. Tina's final decision was not made by the emergency doctor, Kyle, her health insurer or cancer clinic. Her "certainty" occurred once she calmed her mind and used her competence and commitment to open her heart to playing the game of "Deal or No Deal" with each medical decision made in the ED. This debate is comparable to a marital commitment. Nothings lasts forever, and renegotiation needs to be made every step of the way.
The pivotal wish for certainty is the saving grace (deal) that allows for personal commitment (happily ever after) to inspire personal dignity (the certainty of being right) and "happily ever after." Yet each of these seven final wishes are the sum total of saving grace that's necessary for advance care planning and dying with dignity. Patients like Tina are well-advised not to negate any of their final wishes while making everyday medical decisions.
"Final Wishes: The 7 C's of Graceful Departures," written by Kevin Haselhorst, MD is a chapter from the newly released book "Aging in Arizona." It's available on Amazon.