Assistive technology can be a boon if you're visually impaired and you may be surprised to know there are many high-tech devices out there that can help you with low vision. Here is a rundown on some of the most cutting-edge tech devices.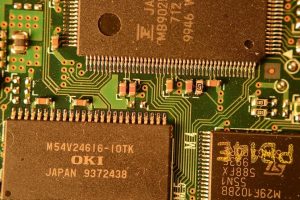 Shoes That Guide Your Feet
Imagine you're walking down the street listening to audible directions and you become distracted and lose all sense of where you are. Wouldn't it be great if your shoes could tell you which way to go? Well now they can. Lechal shoes or insoles can be your personal guide. The shoes or insoles connect with an app on your mobile device via Bluetooth. As you walk, a vibration in your shoe will let you know when to turn. Left shoe: left turn, right shoe: right turn. As you get closer to the corner, the vibration will get stronger. If you miss your turn and you need to turn around, both shoes will vibrate simultaneously.
A Bionic Eye
No longer restricted to the realms of science fiction, the bionic eye is now reality. The Argus II prosthetic system is designed to assist individuals suffering from retinitis pigmentosa – a degenerative disease resulting in blindness. It allows the user to have some level of vision. Patients undergo an outpatient procedure during which they receive an implant on their retinas. The device becomes activated when the patient wears specially designed glasses which have a built-in camera. Signals from the camera are transmitted as electrical impulses to the patient's eye, allowing them to see what is in front of them. So far the image in grayscale, but the designers are working on an upgrade to produce color images.
Bringing Brailler to Your Tablet
A brailler is a laptop-size device that enables people who are blind or visually impaired to type up documents. Sohan Dharmaraja, from Stanford University, an associate professor of mechanical engineering Adrian Lew and Adam Duran from New Mexico State University have developed a brailler that can be used with iPad technology. To use the device you simply place your hands on the tablet. The app calibrates and puts the keys beneath your fingers. You can re-calibrate the app simply by lifting and replacing your fingers. You can type documents using the standard finger combinations of a traditional brailler. This high-tech device also allows you to cut and paste and has access to Google with a VoiceOver option. There are also multiple braille standards, large text, and different color blind-friendly palates.
Glasses Enabling the Color Blind to See Color
They look just like normal sunglasses, but the Enchroma Lenses have a secret: they help colorblind individuals distinguish different hues. Color blindness is a genetic condition, usually passed down from your parents. The result is that the light absorbing molecules in the cones in your retinas absorb more light than they need to; this is known as spectral overlap. It means you will have a hard time distinguishing between certain colors, such as red and green. In about 80 percent of cases of red-green color blindness, spectral overlap is incomplete, so Enchroma Lenses can come to your aid. The science behind the glasses is quite complex, but basically the technology helps to separate the signals between the cones in the retinas, producing wider color variation. The glasses may also be beneficial for children who suffer from autism.
While home modifications can go a long way toward helping a person with visual impairments live a normal life, assistive technology is advancing rapidly, and can do even more. These devices are just the tip of the iceberg. There are many other high tech gadgets out there to help people who are visually impaired, and there are many more to come.