At 83, Dorothy was a good person – but a lousy patient. Frustrated with lower abdominal pain, she refused to take pain medication while in the emergency department. She finally gave in but developed heartburn from the morphine. Once her stomach settled, the doctor relayed the bad news, "Dorothy, you have uterine cancer that's pushing on your bladder and ureter."
Dorothy seemed dumfounded. She had some uterine bleeding several years ago, but "everything was fine." She normally cared for her husband, Bill, who just had a pacemaker placed. Who would care for her? She quickly thought of Cheryl, the church nurse. Cheryl arrived within minutes of the S.O.S call.
In the meantime, Dorothy pumped the doctor with questions about treatment options. The doctor assured her of a referral to a top-notch specialist, but also explained that she might need time to do some soul searching. Dorothy and Bill had one pressing issue, their grandson's graduation – the next weekend in another state. She recalled telling a friend two years ago that she would likely defer treating cancer at her age. The physician explained that this was her choice and recommended she tell very few people until she decided what was in her best interest. She quipped, "I'm not telling anyone!"
Cheryl bounded into the room without a nursing cap or a veil, but with disturbed eyes and a tense smile. The doctor made certain Cheryl was aware of Dorothy's medical condition and then allowed Dorothy to tell Cheryl what the plan was. The physician gave them their space while wondering if Cheryl would advocate for compassionate care or advance care.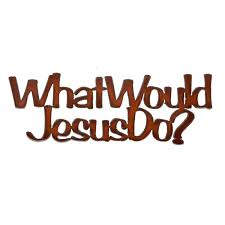 What would Jesus do to heal the sick? Insist Dorothy see the gynecological oncologist ASAP or offer her reassurance that cancer was part of God's plan?
The following teachings of Jesus offer food for thought for the church nurse before jumping to conclusions:
Contemplative Wisdom
Jesus traversed the dessert, ascended mountains or went fishing when He needed time for Himself to pray and get His thoughts together before preaching His message. His preferred place for healing would have been the temple over a hospital. You can imagine him praying: "God grant me the serenity to accept the things I cannot change, the courage to change the things I can and the wisdom to know the difference."
Dorothy's courage to change the things she can comes from giving herself permission to "take it or leave it." More likely, she'll oblige what others say and tell her to do. Dorothy freely admitted that she was one to follow the doctor's orders. Once Dorothy "wises up" and strengthens her courage, she'll determine her own plan of action with Cheryl's guardianship.
Guidance Counseling
The diagnosis of cancer is both a sorrowful and joyful mystery. Christ's life was mixture of sorrow and joy which means he lived His humanity to the fullest. No one escapes pain and suffering while engaging the opportunity to overcome the fear of death and be born again: "Yea, though I walk through the valley of the shadow of death, I will fear no evil: for thou art with me; thy rod and thy staff they comfort me" (Psalm 23:4).
Cheryl has a "rod and staff" that she'll use as she sees fit. Cheryl will have to keep an open mind to make sure that Dorothy feels comfortable with her own medical decisions every step of the way. Caregivers often make the mistake of trying to fit a round peg into a square hole. Dorothy was a bit of a "square" when it came to being a patient. Cheryl would need to tread carefully with her rod and staff to ensure Dorothy's comfort with each doctor visit and treatment plan.
Compassionate Care
The Sacred Heart of Christ offers the dual image of compassion and sacrifice. Jesus was not afraid of sacrifice and preached compassion through his message, "Love your neighbor as yourself." Jesus never found fault with others unless they denied this sacred trust: "Surely goodness and kindness will follow me all the days of my life and I will dwell in the house of the Lord forever" (Psalm 23:6).
Every trial or cancer diagnosis can be perceived as a chance blessing of God's compassion and mercy. Yet, how will Dorothy continue to dwell in the house of the Lord if Cheryl deems uterine cancer an abomination that requires reparative treatment. Compassionate thinking also provides Dorothy the flip side to believing that nothing's wrong with an 83-year-old conceiving uterine cancer – and there's nothing to "fix." This belief system is fundamental to the "good news" proclaimed by palliative care. Dorothy receives compassion when she's given free choice between reparative treatment and palliative care.
Spiritual Healing
The passion and death of Jesus Christ, from the Agony in the Garden to His Resurrection, provide the template for spiritual healing. The stigmata associated with His wounds were ever present, yet He walked in the light of a newfound life. His death and resurrection symbolized spiritual healing through His HEART awakening. He was no longer bound by the constraints of His humanity and was free to live and love unconditionally.
Dorothy could find spiritual healing through reconciliation, forgiving her cancer diagnosis and using it to her advantage. With knowing the end is near before ascending to heaven, why not make the most of her remaining time. She might extend her visit with her grandchildren or plan a surprise trip to Disneyland. Perhaps she'll learn to tolerate pain medication through a positive attitude. She will quickly learn that her gyne-oncologist knows little about spiritual healing and Cheryl could be more of a devil's advocate than a guardian angel.
From the moment Dorothy said "I do" to Bill, her marriage taught her everything she needs to know about spiritual healing – the art of reconciling differences through loving another as yourself.
————-
Cheryl intervened by shoving the business card for palliative services under Dorothy's CT scan report. She approved the gyne-oncologist referral and assumed responsibility for Dorothy's follow-through on instructions. But the doctor wasn't convinced that the church nurse knew anything about palliative care or compassion. She appeared to be tossing this notion aside, but the doctor had faith that Dorothy and Bill would keep an open mind. The path forward would require Dorothy to look at the pros and cons of each medical decision and allow her heart to decide: Yes or No?
If Dorothy needs any more advice and support, she might read this recent post: "Treatment for cancer? No thanks, say some patients."
What would Jesus, "the church nurse," do? Is this anyone's guess or does he/she accept the example of Christ's life and become the best patient/caregiver advocate for compassionate home-based palliative care? The next person diagnosed with terminal cancer will need a guardian angel at bedside, not an undercover Nurse Ratched.